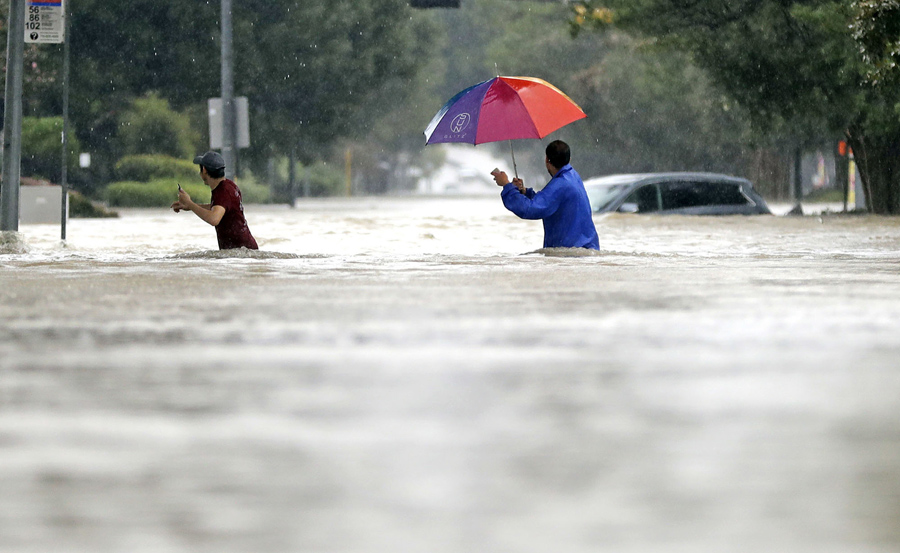 Catholic Charities USA — Catholic Charities pledges 100 percent of these donations will go to relief efforts in Texas, Florida, Puerto Rico and the Virgin Islands. You can donate online, by texting CCUSADISASTER to 71777 or by calling 1-800-919-9338. https://catholiccharitiesusa.org
Hispanic Federation Unidos — The country's "premier Latino nonprofit membership organization" has created a special drive for Puerto Rico, and is continuing to support earthquake victims in Mexico. They accept donations online or you can text "UNIDOS" followed by your full name and a dollar amount to 41444. https://hispanicfederation.org/unidos
Direct Relief — This charity is working with the Puerto Rican government to tackle the difficult mission of sending medical supplies to doctors, first responders and hospitals across the island. While Puerto Ricans have immediate medical need for things such as antibiotics, Direct Relief also will send maintenance medications such as insulin and inhalers.  https://www.directrelief.org
One America Appeal — Created by our five living former presidents, the One America Appeal originally was funding Harvey relief efforts in Texas but has since expanded to those affected by Hurricane Maria, including Puerto Rico. https://www.charitybuzz.com/support/oneamericaappeal
Please help Texas and Louisiana in this time of need.  No matter what state you live in, you can't help but be moved by the harrowing images out of Texas, where residents are grappling with the effects of Hurricane Harvey. It's a life-altering, community-erasing event, but the good news is, we can still help even if we're thousands of miles away from the Gulf Coast.
Listed below are some ways to donate to larger reputable organizations. There are of course many worthy local and national organizations worthy of support—far too many to list here. But that being said, tragedy can also bring out the scammers. The New York Times recommends checking with Charity Navigator's list of reputable Harvey-related charities or the FTC's tips for avoiding fraudsters before opening your wallet.
Donate $10 to Red Cross relief efforts by texting HARVEY to 90999. The tax-deductible $10 donation will appear on your next phone bill. Alternatively, you can donate directly through the Red Cross's website. If you have an Amazon account, you can also donate to the Red Cross though this website.
Donate to the Salvation Army online or by texting STORM to 51555.
Donate the United Way of Greater Houston flood relief fund, which will help with immediate and long-term recovery, through its website or by texting UWFLOOD to 41444.
You may have noticed a prompt to donate to the Center for Disaster Philanthropy at the top of your Facebook page when you log in. If you don't see it, you can also donate via Facebook through the CDP's Facebook page.
GoFundMe created a landing page for Harvey-related campaigns.
The mayor of Houston created a Hurricane Harvey Relief fund that will help victims affected by the storm. You can make a donation here.
The Coastal Bend Long Term Recover Group will help with recovery moving forward. You can volunteer and donate goods and funds here.
GlobalGiving Foundation has a campaign page for donations here.
And because we can't forget our animal friends in a time of crisis, you can help by donating to the Houston Humane Society and San Antonio Humane Society. Austin wasn't affected by the storm, but Austin Pets Alive has stepped up efforts to care for shelter animals in the storm's path.Thank you.  Bless you and bless the victims of this terrible disaster.
Now with Hurricane Irma, here are more ways to help the victims in Florida as well as the Caribbean:
With winds in excess of 180 mph, Hurricane Irma has had a destructive path in the Caribbean and the United States. Each of the projects below will support Hurricane Irma relief efforts led by GlobalGiving's vetted nonprofit partners. You can donate directly to a specific project, or you can give to GlobalGiving's Hurricane Irma Relief Fund.
Donations to GlobalGiving's Hurricane Irma Relief Fund will be divided among our vetted nonprofit partners on this list relative to where the need is greatest. This list of responding organizations and their recovery projects will continue to grow as our partners in the affected areas have the capacity to post projects and updates.
https://handinhand2017.com/donate.html  
Donate blood: OneBlood, in Florida, is urging people living outside of Hurricane Irma's path to visit their local blood center and donate blood as soon as possible. All blood types are needed, however, there is an urgent need for platelet donations as well as O negative blood.
Offer a place to stay: If you have housing available for evacuees, you can create a listing on Airbnb's Irma page. HomeAway is offering free or discounted rental homes for anyone displaced by the storm. All service fees are waived for those affected by the disaster and checking in between now and October 15.
Give your time: The American Red Cross and United Way of Miami-Dade are calling for volunteers to help with relief efforts.