Good morning!   The Pulse Of Radio says the family of late Linkin Park frontman Chester Bennington is establishing an organization to help fans who are struggling to come to terms with the vocalist's suicide, according to TMZ. Sources told the website the organization will aim to raise awareness and provide resources to fans and young people contemplating suicide.

The Bennington family is said to be worried fans may want to "glorify or somehow honor" the deaths of Bennington and his friend, Soundgarden singer Chris Cornell, by taking their own lives. Cornell hung himself on May 18th, while Bennington ended his life the same way on Jul 20th — what would have been Cornell's 53rd birthday. There is currently no timeline for when the organization will be established.
Following Bennington's death, his Linkin Park bandmates established a tribute site that also provides links to resources for anyone in need of support. Contact information for the Suicide Prevention Lifeline, Crisis Text Line and international organizations are all available there. There have been several anecdotal stories in the last month of Linkin Park fans taking their own lives, and one direct copycat suicide reported in Argentina. The victim, a 15-year-old boy, hung himself with a belt just as Bennington did. Music from Linkin Park was found on the boy's phone.
The Chester Bennington tribute and resource site is here.
Meanwhile,  Alternative Nation  wondered did MTV disrespect the memory of Chester Bennington and Chris Cornell during Sunday night's (Aug 27th) VMAs? After Jared Leto gave a tribute to both, the channel began running a 2010 performance by Linkin Park — and cut it off almost immediately to go to a commercial. Fans were furious online about the cut-off, with many also feeling that the network barely recognized either musician's legacy.
In a related story, Peter Cornell, brother of late Soundgarden frontman, has taken to social media to address the conspiracy theories surrounding Chris' death. The singer hung himself in a Detroit hotel room on the night of May 18th, although there is a group of fans online who persist in spreading rumors that Chris was murdered.
Peter wrote, "It's unfortunate the social media platform that allows us to share each other's heartbreak and healing also becomes a forum for conspiracy theories and absurd conjecture that defy decency and continually attempt to blur the facts. The entities that fuel these avenues of chaos are self-serving at best. When is enough enough? Hasn't the time come for my brother to be allowed to rest in peace?"
Peter also thanked those who are taking part in the 22 Pushup Challenge for suicide awareness, which was started to increase recognition that an average of 22 U.S. veterans commit suicide each day.
He wrote, "Going forward I hope prevention is a conversation we can have more freely. Removing the stigma that discussing suicide is like speaking about a dirty little secret. If only . . . what I'd give to have had the tiniest shred of this awareness in early May."
Shortly after Chris Cornell's death, Peter posted a tribute online along with pictures of the first time Peter met his new brother as a youngster and the final time they saw each other as adults. Peter left social media shortly after that and has returned only intermittently because of the conspiracy theories that began to surface about his brother's death.
Oh look at what we'll be giving away! Metallica will reissue its classic third album, 1986′s Master Of Puppets, on Nov 10th (Hey!  Isn't that Lou Brutus' birthday?)  on the band's own Blackened Recordings. The LP has been remastered for the most advanced sound quality and will be available in various digital and physical configurations.
The set will be available physically as a Standard LP, Standard CD, three-CD Expanded Edition, and Limited Edition Deluxe Box Set, while the digital options will be a Standard CD, a three-CD Expanded Edition, and a Digital Deluxe Box Set. The Standard and Deluxe digital versions will be available for streaming and download, while the Expanded edition will be download only.
The Expanded Edition will include previously unreleased demos, rough mixes, interviews, live tracks, and a 28-page booklet. The Limited Edition Deluxe Box Set will include a 108-page hardcover book containing never-before-seen photos, outtakes and previously unreleased interviews, three LPs, 10 CDs, a cassette, two DVDs, a lithograph, a folder with handwritten lyrics, and a set of six buttons.
The reissue is available for pre-order beginning today at Metallica.com, where fans can see the full package details and track listing.
Fans who pre-order the standard album will receive an instant download of "Disposable Heroes (Remastered)". Fans who pre-order the expanded or deluxe editions will receive an instant download of "Disposable Heroes (Remastered)" and a live version of "The Thing That Should Not Be" recorded in Chicago on May 25th, 1986.
We asked drummer Lars Ulrich a while back if he ever misses the old days: "I miss elements of it. I miss the chaos of it. I like chaos. But at the same time, I mean, what that represents mostly to me is not having any responsibilities. Now I got kids at home — there's a lot different things that you gotta make sure is happening now, and sometimes I miss not having those responsibilities."
Metallica: Back To The Front, the definitive story of the making of Master Of Puppets and the tour that followed its release, hit bookstores and online sellers last September.
Aw….Looks like Ozzy will be a grandfather for the 7th time!  His son Jack and his wife Lisa are expecting their third child (apparently another girl!) Lisa shared the news on Instagram on Monday (Aug 28th), posting a selfie in which Jack can be seen gazing down at Lisa's baby bump, with the caption reading, "Literally ate the biggest burrito ever."
Ozzy has four other grandchildren: two each by daughter Jessica and son Louis from his previous marriage to Thelma Riley. Jack is Ozzy's son by his current wife and manager Sharon Osbourne, with whom he also has two daughters.
Jack and Lisa tied the knot in 2012 and are the parents of two girls, five-year-old Pearl (seen above) and two-year-old Andy Rose.
Ozzy told us a while back that the many years he spent drunk and high took a toll on his relationship with his kids — especially Jack: "The one downside about being the crazy guy of rock 'n' roll was the fact that I missed out on my children somewhat and they missed out on me. I had an argument with my son one time, and I go to him, 'Jack, what are you moaning at me for? You never wanted for a damn thing.' And he goes, 'Oh yeah? What about a father?' And it just kicked me straight between the legs and I was like, 'Good God.'"
Last year Ozzy and Jack starred in Ozzy & Jack's World Detour. The reality show aired on the History channel and featured the father-and-son duo traveling the world together to explore some of the planet's most storied sites, along with some lesser-known locations along the way. Ozzy finished a farewell tour with Black Sabbath earlier this year and is reportedly working on a new solo album.
If you follow Oli Sykes from Bring Me The Horizon on Twitter (@olobersyko), you know he promotes his clothing line, DropDead (@DropDeadUK) quite often.   He posted yesterday he has a new line of stuff coming this winter that is apparently tied in with Game Of Thrones!  Winter Is Coming, indeed!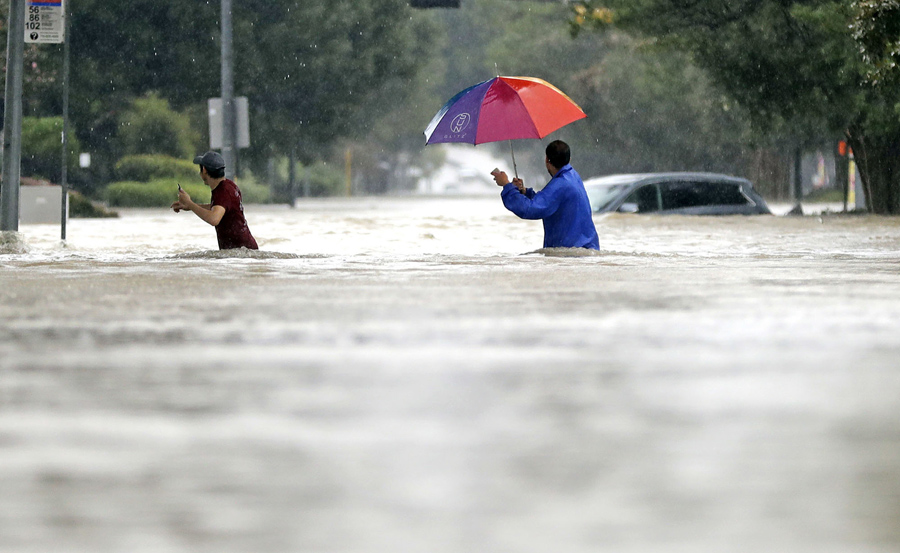 Please help Texas and Louisiana in this time of need.  No matter what state you live in, you can't help but be moved by the harrowing images out of Texas, where residents are grappling with the effects of Hurricane Harvey. It's a life-altering, community-erasing event, but the good news is, we can still help even if we're thousands of miles away from the Gulf Coast.
Listed below are some ways to donate to larger reputable organizations. There are of course many worthy local and national organizations worthy of support—far too many to list here. But that being said, tragedy can also bring out the scammers. The New York Times recommends checking with Charity Navigator's list of reputable Harvey-related charities or the FTC's tips for avoiding fraudsters before opening your wallet.
Donate $10 to Red Cross relief efforts by texting HARVEY to 90999. The tax-deductible $10 donation will appear on your next phone bill. Alternatively, you can donate directly through the Red Cross's website. If you have an Amazon account, you can also donate to the Red Cross though this website.
Donate to the Salvation Army online or by texting STORM to 51555.
Donate the United Way of Greater Houston flood relief fund, which will help with immediate and long-term recovery, through its website or by texting UWFLOOD to 41444.
You may have noticed a prompt to donate to the Center for Disaster Philanthropy at the top of your Facebook page when you log in. If you don't see it, you can also donate via Facebook through the CDP's Facebook page.
GoFundMe created a landing page for Harvey-related campaigns.
The mayor of Houston created a Hurricane Harvey Relief fund that will help victims affected by the storm. You can make a donation here.
The Coastal Bend Long Term Recover Group will help with recovery moving forward. You can volunteer and donate goods and funds here.
GlobalGiving Foundation has a campaign page for donations here.
And because we can't forget our animal friends in a time of crisis, you can help by donating to the Houston Humane Society and San Antonio Humane Society. Austin wasn't affected by the storm, but Austin Pets Alive has stepped up efforts to care for shelter animals in the storm's path.

Thank you.  Bless you and bless the victims of this terrible disaster.