Welcome to the Jungle! I got me a ticket to see Guns N' Roses at the Apollo Theatre in Harlem, NYC!  In my old neighborhood!  Can't wait!
Stone Sour have announced their fall tour with Beartooth, Steel Panther, Cherry Bombs and Man WIth A Mission on select dates.  See them all in Road Rage! Singer Corey Taylor told us the band has a lot on its touring plate for the rest of the year:  "Basically just tour, tour, tour, man. Get it out there, you know. I know we've got some cool stuff coming down the pike that will happen later, and nothing that I can confirm yet because it's not been set in stone. But it's gonna be pretty rad, man, we're pretty stoked."
In This Moment have also announced a HUGE fall tour with Of Mice & Men and Avatar.  Find those in Road Rage.   They've posted these new songs from their Ritual album, which drops on Friday!   I love the cover, "In The Air Tonight"!  Check 'em out!
And what's with THIS picture of Avatar on the red carpet at the Alternative Press Music Awards last night in Cleveland?
Meanwhile, Corey Taylor presented the APMA Vanguard Award to Korn at the awards ceremony last night. A complete list is here.
Highlights among the other winners are:
Best Album of the Year:  Misadventures  Pierce The Veil
Icon Award: Laura Jane Grace-Against Me!
Artist of the Year: Panic! At The Disco
Best Bassist: Fieldy of Korn
Best Live Band:  Falling In Reverse
On Sunday, famed horror director George A. Romero passed away.  Guns N' Roses  guitarist Slash, Metallica axeman Kirk Hammett and Rob Zombie all reacted online to the death of the filmmaker, who changed the horror genre in 1968 with his classic Night Of The Living Dead and invented the modern concept of the zombie. Romero, who died on Sunday (July 16th) at age 77 after a brief battle with lung cancer, also directed the zombie masterpieces Dawn Of The Dead and Day Of The Dead, while collaborating with Stephen King on 1982′s Creepshow.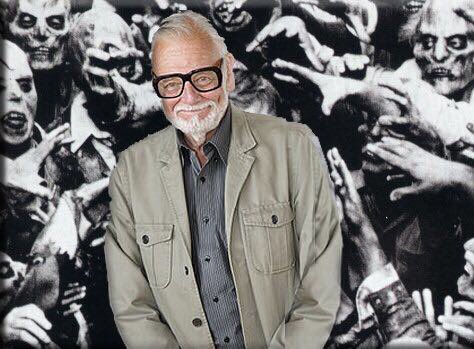 Romero told us years ago he tried to break away from the horror genre but that was where he had his greatest success: "The times that I've gone out away from the genre, the things that I did didn't make a lot of money. You know, I don't mind it. I was reflecting back to right after Night Of The Living Dead: I was reluctant, and the second film we did didn't even get distribution. Actually, the next three films weren't horror films. I tried for a number of years to resist it and none of those things went out and made any money 'cause everybody wanted me to do Night Of The Living Dead again. So we did Dawn Of The Dead, and I guess that really sealed my fate 'cause it was the most successful of the three."
All three musicians are massive horror fans, with Slash also a producer of one thriller and Rob Zombie a writer, producer and director of seven genre films. Slash wrote online about Romero, "Trailblazer is an understatement. We will miss you." Slash told Rolling Stone a while back, "Night Of The Living Dead was a very ominous, haunting and brutal movie, and I remember specific scenes that have stayed with me all these years."
Hammett, who has a vast horror collection and has also published a book and staged a genre convention, called Romero the "founding father of the modern zombie movie" in his own Twitter post, adding, "long live Romero!"
Rob Zombie chimed in, "I can't believe George Romero has died. All the zombies owe him everything! He was the master."
Romero's other movies included Martin, The Crazies, The Dark Half and three more installments of his Dead franchise. He was set to produce a seventh at the time of his death.
Speaking of films,  The Pulse Of Radio reporting more of  Thirty Seconds To Mars frontman Jared Leto's replicants are on view and new plot details have been revealed in the new trailer for Blade Runner 2049. In it, replicants have the ability to send what remains of society into a downward spiral. "Every leap of civilization was built off the backs of slaves," says Leto. "Replicants are the future, but I can only make so many. I have the lock, and he has the key." Harrison Ford's Rick Deckard also pops up to explain his experience to Ryan Gosling's LAPD Officer K. Denis Villeneuve helms the sequel to the 1982 classic. Robin Wright and Ana de Armas also star. Blade Runner 2049 will go wide on Oct 6th.
Celebrating life today:  System Of A Down's Daron Malakian is 42. Aaron Gillespie of Underoath is 34 and Jack Irons, former drummer Pearl Jam and Red Hot Chili Peppers is 55.