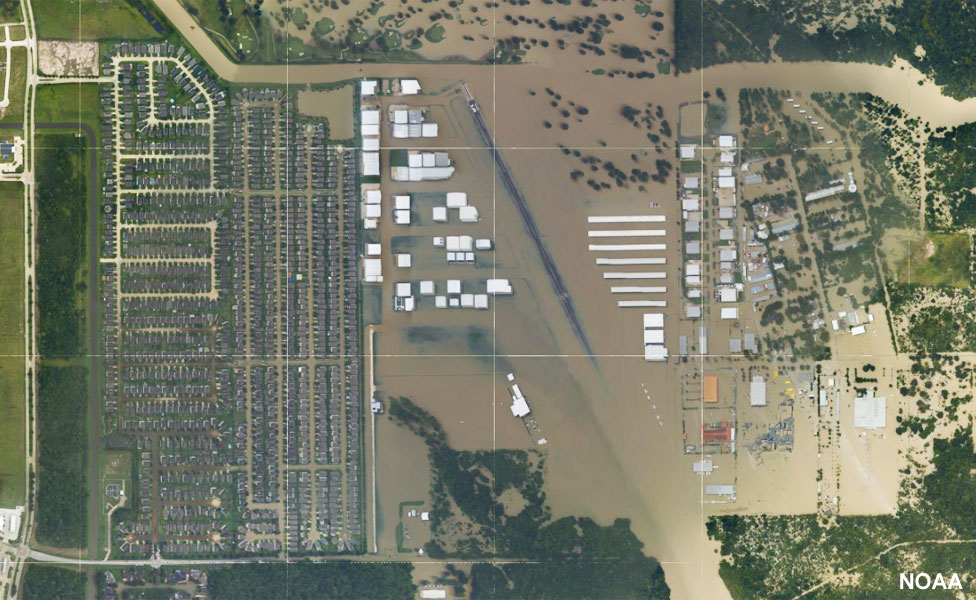 Still hurting for all the victims of the Harvey aftermath and we have made a page you can find on our home page where you can find tons of ways to help those in dire need right now.  Imagine if you lost EVERYTHING you owned!  This is what we do as Americans.  We help each other. So please find it in your hearts to try to give something to help those who are so helpless right now.  (Photo credit: NOAA)
Guns N' Roses performed surprising cover versions of Glen Campbell's "Wichita Lineman" and James Brown's "I Feel Good" during Wednesday night's (Aug 30) show in Edmonton, Alberta, Canada.
Prior to launching into "Wichita Lineman,"  Axl Rose told the audience: "We're going to play something we've never played before. It might not be your thing, but we're just trying to pay a tribute to someone. It's not what you think."  "For Glen," Rose said at the track's conclusion, referring to the country legend who died Aug  8.
Last night's performance of "I Feel Good" marked the first time the group has played the song in full, and the first time Rose performed the track with guitarist Slash and bassist Duff McKagan. A previous version of GNR, with Axl as the only classic-era member, performed a snippet of the song at 2006′s Rock In Rio festival.
GNR kicked off its long-rumored and long-awaited reunion trek in April 2016 with a club show in Hollywood and appearances in Las Vegas and at California's Coachella  festival.
The "Not In This Lifetime" tour features classic GUNS members Slash, McKagan  and Rose,  backed by drummer Frank Ferrer, guitarist Richard Fortus, keyboardist Dizzy Reed and second keyboardist Melissa Reese. The band is amazing. Hopefully you can see when while they are out and about.  And I love the fact that they are not shy about doing covers in their sets.  Pretty cool stuff!
Foo Fighters members Dave Grohl and Taylor Hawkins recently spoke to New Zealand's The Rock FM about the social stigma associated with depression, addiction and trauma, particularly in the wake of the recent deaths of Chester Bennington and Chris Cornell. Grohl said, "Depression is a disease, and everybody kind of goes through it their own way. I can't speak for anybody else's condition, but the hardest part is when you lose a friend. And I just always immediately think of their families, their bandmates, 'cause going through something like suicide, it's a long road."
Grohl added about Chris Cornell, "Chris was such a beautiful guy, man — he was the sweetest person, he was so talented, he had so much to offer — that it was a real shock to hear that he had gone."
Grohl, who lost Nirvana bandmate Kurt Cobain to suicide, continued, "Mental health and depression is something that people should really take seriously. There's a stigma attached to it, which is unfortunate, because just as you take care of yourselves in every other way, I think it's important that people really try to take care of themselves in that way too. And it ain't easy."
Taylor Hawkins remarked, "It just goes to show you, it doesn't matter what's in your bank account, or how many hits are on your YouTube page, or all that kind of crap — it all goes out the window if, like Dave said, you're not feeling right."
Cornell and Bennington both committed suicide by hanging, on May 18th and Jul 20th respectively. The Soundgarden and Linkin Park singers bonded when they toured together nearly a decade ago.
Meanwhile, Foo Fighters' ninth album, Concrete And Gold, will be released on Sep 15th, to be followed by an extensive North American tour.
 According to The Pulse Of Radio, Flea from Red Hot Chili Peppers has landed a role in a new movie called "Boy Erased." The movie is a coming-of-age and coming-out drama from writer/director Joel Edgerton, who is also an actor best known for his roles in "Loving" and "Midnight Special." It tells the story of a 19-year-old man named Jared, the son of a Baptist pastor in a small American town, who is outed to his parents and must either attend a gay conversion therapy program or be permanently exiled and shunned by his family, friends, and faith.
Based on a true story, "Boy Erased" is adapted from "Boy Erased: A Memoir Of Identity, Faith, And Family" by Garrard Conley, who serves as a consultant on the film.
Flea's role in the film was not disclosed, but he joins a cast that includes Nicole Kidman and Russell Crowe as Jared's parents and Lucas Hedges as Jared, along with Cherry Jones, Xavier Dolan, YouTube personality Troye Sivan and Edgerton.
The movie will begin production this fall for a 2018 theatrical release. The Chili Peppers have been on the road behind their eleventh studio effort, The Getaway, which came out in Jun 2016.
Mastodon has released a new song called "Toe To Toes." The track is taken from the band's upcoming EP, Cold Dark Place, which is due out on Sep 22nd. The EP's arrival was first rumored earlier this month, with the band confirming it a few weeks later. Three of the songs were recorded during the sessions for their 2014 album Once More 'Round The Sun and one song was recorded during the sessions for their current album Emperor Of Sand.
Emperor Of Sand came out in April and debuted at Number Seven on the Billboard 200 album chart. The disc contained the Top Five rock radio single "Show Yourself."
Drummer Brann Dailor told us when the band landed its first rock radio hit, "Curl Of The Burl," in 2011 that Mastodon was pleased to write more accessible songs:  "That's what we need as people, like, we need to change and we need to feel like we're progressing in a forward motion. Even if us progressing sort of mimics what a lot of other bands do — they don't make concept records, they do have three minute long songs — that's a big change for us, you know what I mean?"
As for the new EP, guitarist/singer Brent Hinds said, "It has to do with a nasty breakup that I went through. I wrote some pretty dark, beautiful, spooky, funky, ethereal, melancholy music, which also sounds like the Bee Gees a little bit (laughs)."
In addition to its digital and CD formats, Cold Dark Place wlll be available as a limited-edition, 10-inch vinyl picture disc on Oct 27th.  Mastodon will also launch a tour across North America next month with Eagles Of Death Metal and Russian Circles.
And finally today,  The Pulse Of Radio says  Prophets Of Rage guitarist Tom Morello told Music Radar in an interview that there is "great" unreleased music from his previous band Audioslave he hopes to issue one day. Morello said he even spoke with late Audioslave frontman Chris Cornell about the unheard material, saying, "I hope it does (get released), because there's great Audioslave material in the vault. It's so sad: we had talked about playing more Audioslave shows and releasing that material and doing something together in the not-too-distant future."
Morello told us a while back when Audioslave first got together they had to battle preconceptions of what they would sound like: "The second that people hear, 'Oh well Soundgarden and Rage Against The Machine are joining forces. It's going to sound like this…,' or 'It's going to be like that.' And we were able to completely shut all of that out and just concentrate on four friends writing tunes together. I think that was the key to the cohesion and the chemistry that we had."
Morello also told Music Radar the writing Cornell did for guitar was unusual and challenging, explaining, "He had a very wonderful and unorthodox songwriting talent — it was sort of part-Beatles, part-Black Sabbath, but he had this internal non-4/4 time signature clock in him that was really interesting, and it's in some of those Audioslave songs where he would contribute chord progressions."
Cornell and Morello played together in Audioslave from 2002 to 2007, recording three studio albums and a live LP.
The band reunited for a brief set in January at an event protesting the inauguration of Donald Trump. Cornell committed suicide this past May.  Morello's new group Prophets Of Rage, which features Morello's other bandmates from Audioslave and Rage Against The Machine, as well as members of Public Enemy and Cypress Hill, will issue its self-titled debut album on Sep 15th.
Celebrating life this weekend:  Today, my pal actress/comedienne Lily Tomlin is 78 years young!   Saturday:  Phil Lipscomb of Taproot is 41, Aimee Osbourne is 34 and Dino Cazares of Fear Factory is 51.  Sunday:  Vaden Todd Lewis of The Toadies is 52,  Steve "Jonesy" Jones of Sex Pistols and KLOS "Jonesy's Jukebox" is 62.
Have a great long Labor Day Weekend!  See you Tuesday!